We know that the bidder probation levels on GovDeals can be hard to understand, so we're going to break it down for you to help you better understand the different levels of our bidder probation statuses.
To start, GovDeals' buyer policy states that all newly registered bidders on GovDeals are subject to a probationary period. During this "probation" time there are both monetary and auction limitations that you, the new bidder, must follow.
There are three levels of probation, and each level will last a minimum of 30 days. While you are on each level 30 days must pass AND three auctions must be completed. This means that you have won at least three items and paid for and picked up all items. Once the seller marks the item picked up, that auction is considered complete and closed. Your account will move to the next higher level of probation once ALL requirements are met.
**A high bid or an auction won, and not paid for or marked picked up, is considered an open auction and will not count towards your completed auctions.
The Probation Policy is as follows:
Buyers on level one probation have a PayPal and Credit Card limit of $1,000. During the first level of probation, you may only have (3) three transactions open at any one time. As soon one transaction is completed or closed, another transaction may be opened. If at the end of the first 30-day period, you have a minimum of three (3) completed transactions, your buying account will be moved to level two probation.
During level two of probation, you may have as many as 6 (six) transactions open at any one time. If at the end of the second thirty-day period you have completed a minimum of 6 (six) transactions (three within this 30-day period), you will advance to level three probation.
During the third and final level of probation, you may have up to 9 (nine) transactions open at any one time. If at the end of the third thirty-day period you have a minimum of nine (9) completed transactions, (three within this 30-day period), your account will be removed from probation.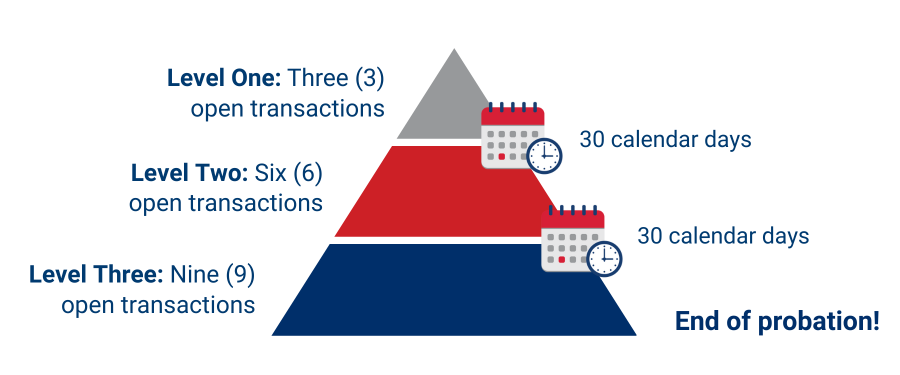 Exceptions
If you would like to bypass this probation period on your buying account sooner, you may pay a bid deposit in the amount of $1,000.00 (one thousand).Your deposit will be held in a non-interest-bearing account for 60 days, and then returned to you (a $25 processing fee applies) after that time. Bid Deposit accepted forms of payment are cashier's check, money order or wire transfer.
We do not accept Western Union, Bank Deposit or Counter Transfer. When submitting payment, please reference your username or email address on the cashier's check or money order.
Additionally, if you are attempting to participate in an auction that exceeds the initial $1,000 limit or has a bid deposit that exceeds $1,000, submitting the bid deposit will remove you account out of probationary status allowing you to participate in the auction.
**PLEASE NOTE** Any new bidders that have been accepted in a Seller Tier are NOT subject to a bidder probation period while participating in the tier
Mail the cashier's check or money order to:
GovDeals
100 Capitol Commerce Blvd
Suite 110
Montgomery, AL 36117
Liquidity Services Operations LLC (formerly known as GovDeals) Wire Instructions:
***Please ensure that your bank references your GovDeals.com username or your buyer ID # on the wire transfer***
Name of Bank: Wells Fargo Bank, N.A.
Bank Address: 420 Montgomery Street, San Francisco, CA 94104
Beneficiary: Liquidity Services Operations, LLC
Name of Account: Liquidity Services Operations LLC
Account Number: 4125377382
ABA Routing Number: 121000248
SWIFT Code: WFBIUS6S